Betsy's Swimming Career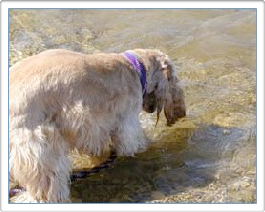 Hi--my name is Betsy and I am a Cocker Spaniel. My mom became friends with Deborah Lee Miller-Riley, head of Canine Water Sports and decided I was going to be a swimmer. We went to a lake with Aunt Deborah and her Portuguese water dogs, Nikki and Kohl, to introduce me to the water.

I really hated it! I was so afraid of the markers and the piers that kept moving around, I even thought I would get seasick. They all totally ignored me while I barked and ran around looking for someone to save me from what I knew to be certain doom. Eventually, I did get my feet wet.

Then I saw Nikki go into the water and was sure she would drown, so being the brave little cocker spaniel I am, I tried to save her--little did I know that I had performed my first rescue tow, and that they actually give ribbons to dogs who do this!


Then Mom started throwing balls into the water, and Nikki and Kohl went right in and retrieved them. I thought about it a minute and decided if they could do it, so could I. I did and that started my swimming career. It was fun to show those big dogs that this little girl can get the ball also!

Next Mom took me to a Novice Water Training Workshop and we worked for two days on putting my head under water and retrieving, first in a bucket and then in the lake, and learning to swim.

I would not put my head into the lake to retrieve until I actually saw my Mom with her mouth in the water, and it was pretty funny !

After learning how to jump on and off boats (I need a lot more work on that), the next part of the training was doing what they call the "Team Swim," which is actually an "Aquatic Heel," which I thought would never happen since "Heel" is not one of my strong points, but believe it or not, here I am with Mom actually doing a team swim!

I am hooked !! Every time I see water, I just want to jump in, whether it is the Jacuzzi, the pond or the river!

Jane and Betsy