Pam Dennison and her Border Collies, Emma, Shadow, and Beau

July 7, 2006
OK, so a few weeks ago, I went away for the weekend. I desperately needed a break. A friend of mine was going to Canine Water Sports camp for the weekend, so I decided to tag along. A few of my students had been to this before, but I just couldn't see the big attraction. All of my dogs know how to swim and I really had no idea what this was going to be about. I figured it wouldn't be too boring, but I knew Deborah Lee was a positive trainer and like I said, I desperately needed a break and a weekend away.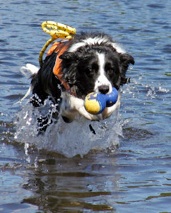 WELL! I was in for the shock of my life. I LOVED IT! I never would have imagined how totally thrilling it is to be swimming with your dog. I was only allowed to work with one dog and decided to use Shadow because he is my best trained dog (I thought I would have no chance with Emma or Beau actually doing a stay on shore and wasn't really all that certain Shadow would do it).

I learned (among other things) the importance of warming up and stretching your dog before swimming them (yes I really already knew this but like so many people, I was lazy - heck, I never even stretch myself before competing). We started out doing some groundwork behaviors - hand targeting (which Shadow already knows) and a new behavior of circling around me a few times, which I named "Help!"

I then taught Shadow to stay with me in the water - first with just walking parallel to shore in shallow water and then gradually going farther out until he was swimming next to me. He loves the water and I really did not think he would be able to do even that and not go crazy.

After a few reps of that, we worked on having him stay on shore while I walked out into the water. He actually stayed until I called him. He swam out to me and I had him do his new behavior of "Help!" and then swam with him around some buoys and then back to shore.

To say I was excited beyond belief is an understatement. I cannot describe the thrill that went through me to see my little guy swimming with me and staying with me around the 3 buoys.

I have been practicing here at home (I live on a lake) and have subsequently been back for a private lesson (In CT), where I could work all 3 of my dogs. (Pictures to come soon!) Emma is rapidly reaching Shadow's level and Beau is starting to be a little more confident. (He has a funny body type that makes him an awkward swimmer) I am working on building their endurance and Deborah Lee gave me some exercises to work on with them. I also found out (not that I had any doubt) that all 3 of them will do a "submerged retrieve" (I am not quite sure what this is called, but entails putting their entire head under water and retrieving an object. This is the first step to teaching them to dive under water - not to be confused with dock diving).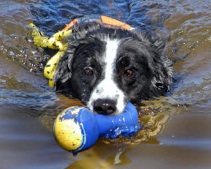 They are also learning to retrieve an object and bring it back to me while I am still in the water. Not an easy thing to change, since they are used to me throwing toys out in the water from shore, getting them and bringing them back to shore.
The Team Swim Test goes like this: Your dog is in a stay inside a "box" (4 pvc poles shaped like a square). You go out 50 feet into the water and you call your dog to you. Your dog has to swim around you for 30 seconds and then you swim off together to a line of 6 buoys, 10 feet apart and 10 feet farther from shore. The two of you have to weave through them (like weave poles in agility) and then swim back to shore together. Your dog needs to be within arms distance the entire time and you have to both get back to the "box."

The next test is September 2 and I hope to have Shadow and possibly Emma ready to take the test. Canine Water Sports is a new sport started by Deborah Lee Riley and is open to all breeds, not just the typical water breeds. She offers many different types of workshops for different size dogs and different skill levels.

August 12, 2006
Second private with Deborah Lee today. I wasn't all that sure how my dogs would do today. Here at home, their progress has been somewhat limited and sporadic. I kept persevering and boy, am I glad I did! They were all incredibly fantastic today!

Deborah Lee set up a table about 30 feet from shore (that was underwater a few inches) so they could learn to stand on it and rest if they needed to. Attached to the table was a floating ball that all of my dogs were very interested in.

Beau got to go first today. He is my most timid dog and although he enjoys swimming, he is not the best swimmer of the bunch. I started out with the same warm up exercise and then worked on his (non-existent) stay on shore…. I finally got him to do a stay on shore and then called him to me. He did his "help" behavior and then I swam with him over to the table. After a few tries, he figured out how to get onto it. I gave him the toy and with no hesitation whatsoever, he promptly leaped off of the table! We repeated that a few times and I started to mix in "help" and "table." He also started to bring me the toy while I was still in the water – a huge breakthrough for him. He was totally confident and I was utterly thrilled!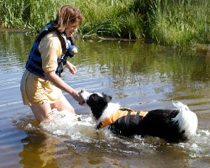 Emma came next and she actually did a stay on shore while I walked into the water a few feet. I am still having to lure her a bit to do her "help" behavior. I will have to go back to working with this on land a bit more. Emma loved the table, got on with no hesitation and jumped off with no hesitation! She was even able to willingly jump off of the table away from shore. We did a lot more swimming together than we had been doing and used the table so she could rest in between. I am torn between building up their stamina and making sure I don't stress them or cause an injury. She did not want to stop swimming! She rarely went to shore, retrieved the toy back to me in the water many times.
Shadow was very afraid of the table and I had to physically help him the first time he got on it. The first time he came off of it okay, however, the second time he was too afraid. After trying to get the floating ball in his mouth a few times…<g>, he ended up tipping the table over so he could just swim off of it. I didn't push him with it, so we just swam around a little bit. My goodness! He swims so fast, I can hardly keep up with him! I did a few "bring the toy back to me in the water" retrieves and he did really well! This is a big deal for him – letting go of the toy, so I was very impressed. I ended his session much sooner because he hurt himself last week and I didn't want to push him.

All in all it was a super session with all of the dogs. The progress they made today was amazing. Before this, none of them would bring the toy to me in the water and Beau and Emma swam for a much longer time than they normally do AND IT WAS THEIR CHOICE! Wahoo!

Emma Photos

August 18, 2006
Another lesson today. I am still on cloud 9 with my incredible swimmers! Everyone stayed on shore (wahoo!) and I was able to do a complete run-through of the whole water test with Beau, Shadow and Emma. All of the dogs were fantastic! We also practiced their underwater retrieves - all perfect as well as their 60 foot retrieves - all perfect.

It is interesting - I really thought that the life jacket for the dogs was unnecessary. Beau went in to the water without his on when we first got there and I could clearly see that he wasn't as confident without it. Wearing the jacket gives them extra buoyancy so that they don't overtax their bodies and don't tire as quickly. I on the other hand, have a hard time swimming in mine and it actually slows me down...

August 25, 2006
We had one more water lesson today before the test on September 2! As soon as I got there, it started pouring rain. Ick. But I swam with Beau and Emma (Shadow stayed in the van - he stresses out really bad working in the rain) and they were superb! Beau's stay still needs some work, but Emma's has been incredible!

THE BIG DAY!
September 3 , 2006
Due to the lack of stays with Beau and Emma on shore, I have been diligently practicing and it very much paid off! I was so proud of all of them!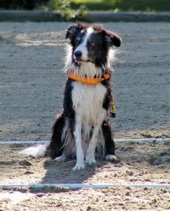 Emma for staying on shore and for being very focused on me, even with the distraction of the other people and dogs (her first time exposed to a group like this) and her great attitude. What a super dog!
Beau for staying on shore - stays have *never* been his long suit....which is why we don't have his CDX yet...and his willingness to work even though the water was quite cold. (Em and Shadow didn't seem to care) He is such a trooper!

Shadow for being the truly amazing dog he is. He was reticent about putting his entire head in the water. He will always put his nose in and up to his eyes, but the test is for the entire head. He thought about it and then just "dove" right in! GOOD BOY!!!!

The weather, while slightly chilly at times, was dry! Water was very cold, but after my first swim, I was numb and didn't notice <g>

So, drum roll please.....after entering 9 times, we passed 8 times!

Shadow: Passed his Team Swim test, his Novice Single Retrieve test and his Novice Head Submersion test! He is now ARCH Ewe Are Beyond a Shadow of a Doubt, CGC, CD, NAJ, NA, TSW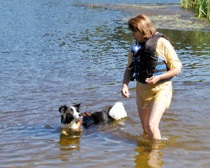 Emma: Passed her Team Swim test, her Novice Single Retrieve test and her Novice Head Submersion test! She is now Emma Ewe Found Me, TSW
Beau: Passed his Team Swim test, and his Novice Single Retrieve test. He missed the Novice Head Submersion by about an inch or so. But he is now ARCH Surely Ewe Beau Jest, CGC, TDI, CD, A-CD, NAJP, NAP, TSW

To get their Retrieve Title, they have to pass 6 more tests and to get their Canine Underwater Work title, they have to pass a total of 7 tests.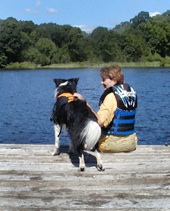 Even though they were all quite willing to do more and I could have entered them all in a few other tests but I didn't want to push them.

Deborah Lee showed me a diagram of Canine Water Agility and I must say, it looked VERY intriguing, very challenging and very fun! But...sigh...it will have to wait until spring...sigh...now a new reason to dislike winter...