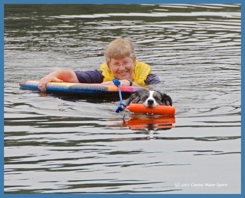 Canine Water Sports offers four divisions of splash challenges: Shoreline Skills, Mariner Dog Tasks, Pool Proficiencies and Seafarer Games.

125 pages

Download Sections

Summary of Skills & Tasks    Diagrams

1. SHORELINE SKILLS DIVISION - a fun place to begin.  Skills are performed in wading depth water for handlers, but swim depth waters for the canine. There are four performance categories in Shoreline Skills: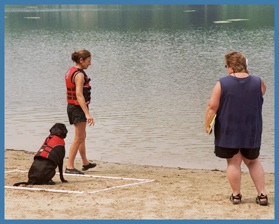 2. MARINER DOG TASK DIVISION - entry level work and up. Tasks are individual water exercises that vary in their degree of challenge and purpose. The Mariner Dog Task Division has seven water performance categories. Each team must first pass the Qualifying Team Swim test to be eligible for the Mariner Dog Tasks.

There are two sets of standards for these categories. Giant, large, standard and medium sized dogs are in Group 1. Miniature, toy, small, and dwarf dogs are in Group 2. Generally, the difference in the standards between the two groups is tow weight, retrieve article size and swim distance.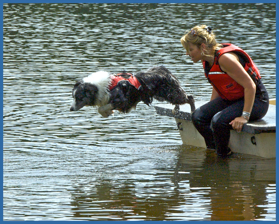 Coming soon -

3. POOL PROFICIENCIES -- similar to Shoreline Skills, but performed in a pool.

4.  SEAFARER GAMES DIVISION - wet, wild and joyful competition. Here only the most skilled dog or team of dogs will win the game point. A team who wins a game point will enjoy applause, laughter and a deposit toward a Game Certificate Award. Games are also divided into two sets of standards based on dog size, Group 1 and Group 2.

The skills required to play the games in the Seafarer Games Division are drawn from the various types of work performed in the Shoreline Skills and the Mariner Task Divisions.