SAFETY EQUIPMENT

Canine Flotation Device (CFD)

The best insurance plan you can buy for your dog! 

Required for all CWS Training Programs, a canine life jacket reduces the risk of drowning, provides warmth in cold waters, and offers protection against water debris. It helps build confidence and coordination, encourages swimming and the duration of a swim, which fosters persistence and endurance. The jacket tends to add mild water resistance during swimming, which may serve to improve stamina and aerobic capacity. Even dogs who are natural swimmers endowed with a high buoyancy factor appear more confident and swim longer in a life jacket. 

We recommend Float Coats by Ruffwear, because we think they are the best CFD made.

Coats are available for purchase at our programs, at discount to registered students

or you can order direct from Ruffwear.com.    To Find a Store Near You that carries these Float Coats go to

The

FLOAT COAT

A performance canine lifejacket By Ruffwear

Ruffwear Price: $80.00

CWS Student Price $69.00

Color options:

Red Currant

Sunrise Yellow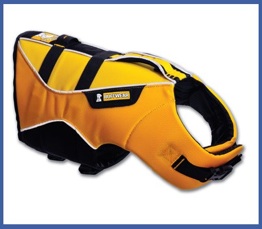 Girth         Size

17-24"          XS

23-30"          S

27-32"          M

31-40"           L
The Float Coat is the ultimate in canine flotation and water safety.  Ideal for active canines who frequent the water, it is designed for aggressive swimmers in rough of fast-moving water, day or night.   Intended Uses include Kayaking, Rafting, Boating, Surfing, and Paddle Boarding.
Sizing suggestion by Deborah Lee: 

If your dog is in between sizes on the girth measurements, choose the smaller size. 

These jackets work best for comfort and range of motion if the back length just covers the dog's rib cage. 

"Girth" is the measurement around the dog's rib cage at the widest point. 
THE WEB-MASTER HARNESS by Ruffwear

Photo: Handled by her owner Lisa Pattison, Lacey, the Australian Shepherd, is wearing the new Web-Master Harness for her submersion retrieve from a boat test.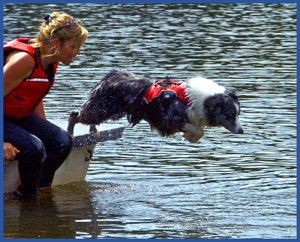 This NEW Web-Master Harness by Ruffwear was design as a sturdy lift harness for search and rescue dogs, but it is proving to be a very versatile harness.  While the harness is being used for tracking, skijoring, rehab, and service work, Canine Water Sports has found it to be an excellent harness for canine  submersion work and as an alternate safety device to the life jacket for conditioned dogs.  The bright red vest portion of the harness provides high visibility in and out of the water. The fleece-lined, foam-padded chest and belly straps provide pain free lifting from the water during an emergency or as needed.  Its high profile handle make assists onto boats much easier, correctly balanced and safer for the dog. The Web-Master's five point adjustment system allows for a correct fit to ensure the dog remains inside the harness during any guidance or lifting. The harness also has 3M Scotchlite reflective trim along the harness to add visibility and safety in low light situations.   Approved for PWDCA Water Trials and CWS Submersion Tests.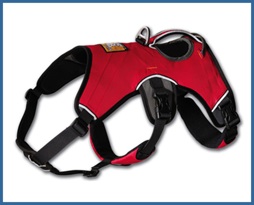 SIZE    GIRTH

XXS      12" - 19"

XS         17" -  24"

S            21" - 30"

M           26" -  36"

L            32" -  48"

Ruffwear .com
Watersports Safety Lead

Designed exclusively for Canine Water Sports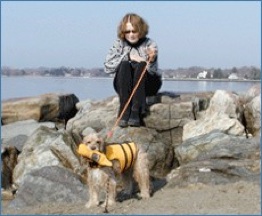 CWS Water Training Lead:- a 4 1/2 foot floating lead with a brass snap that makes a quick connection to any water harness or the K-9 Float Coat. Designed handle-free to reduce the risk of dangerous in water snags. When attached to the CFD or harness the lead remains visible and safely floating behind the dog, creating an excellent flight prevention and rescue line for novice dogs.  This line is also used in the Tow Handler to Shore Task.

Safety Colors are Red, Orange and Yellow with black ticking

$11.99 (+CT. Sales Tax $0.71)
Watersports Whistles

Required safety gear for Canine Water Sports participants and a highly audible sound cue for canine water behaviors. Audible over long distances on the water. Roy Gonia (Pea-less) Field & Training Whistle.