FLOATING RETRIEVE ARTICLES

PWDCA Float Line

Made by Canine Water Sports for the Portuguese Water   Dog Water Trial, this  eleven foot line is also acceptable as a CWS retrieve article or tow line.  The line has five brightly colored 6 X3 1/2" (*PVC) line floats  knotted with 1/2 " floating marine line.  Lines can be made in Purple or Yellow. The  color Purple is a great contrast color for visual based land retrieves.

$30.00  (USA Shipping $13.00)

*This article is not a chew toy, a common additive to PVC/vinyl is a suspected carcinogen. Visit www.pvcinformation.org   Teach dogs to grab only the line.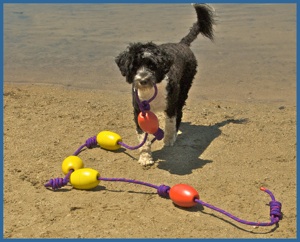 Toss N Fetch Line by CWS

Made for Watersports, the Toss N Fetch Line is an approved Retrieve Article for Canine Water Sports. This line is four to six feet in length, has three brightly colored  6" X 3 1/2" (*PVC) line floats, which are knotted together with 1/2" floating marine line.  The Toss n Fetch Line is approximately half the length of the PWDCA regulation retrieve line making it easier to pack, carry and toss.  Great for introducing tow work and line deliveries for rescue work.

$19.99  (USA Shipping estimate is $13.00)

*This article is not a chew toy, a common additive to PVC/vinyl is a suspected carcinogen. Visit www.pvcinformation.org   Teach dogs to grab only the line.
Toss N Fetch Ball by CWS

Made for Watersports, the Toss-N-Fetch Ball is an approved Retrieve & Delivery Test  Article for Canine Water Sports. Because it's light weight and smaller than the PWDCA regulation buoy it's a smart choice for introductory and land based training for the PWDCA Courier Test. The Toss N Fetch Ball is a brightly colored 6" X 6" (*PVC)  Line Float  with matching knots of 1/2" floating marine line.

$14.99  (USA Shipping Estimate $8.00)

*This article is not a chew toy, a common additive to PVC/vinyl is a suspected carcinogen. Visit www.pvcinformation.org   Teach dogs to grab only the line.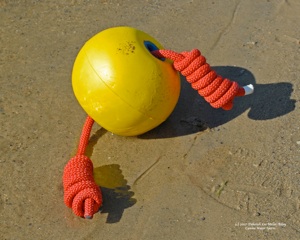 Training Dummies & Bumpers

Tips


•Make sure dummies/bumpers are dry before being put away to avoid mold and bacteria growth. 


•Mesh bags are great for air drying and storage.


•Canvas dummies sit high in the water and are light weight for carrying/retrieving, but are not very durable, especially with mouthiness.


•Firehose dummies come in bright colors, are more durable than canvas, and have less bulk for easier pick up by some breeds, but tend to lay flat on the water surface.


•Plastic Knobby Dummies tend to discourage mouthiness are a bit heaver than other dummies, which can increase throw distance and give greater accuracy to throw placement. Once punctured these dummies will take on water and may sink.


•Variety in retrieve articles strengthens the retrieve behavior - a trainer's bag should contain a variety of retrieve articles distinct by sizes, weights, floatation, color, patterns, texture and shapes.


•Canine Water Sports retrieve tests require the dog to be trained on a minimum of three different retrieve articles.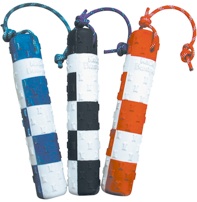 Katie's Original Plastic Bumpers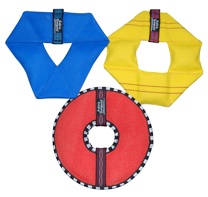 Flyers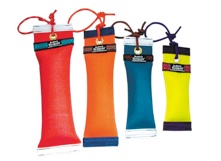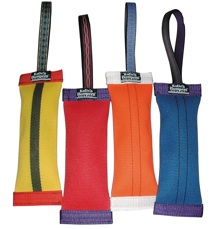 Katie's  Heave Hose Bumpers - Lightweight, colorful and durable bumpers. Made from tear resistant fire hose, these bumpers are stuffed to float and closed with a strong reinforced stitch. They are easy to grasp and hold, because they are flatter and permit canine teeth to lock onto the fabric. These bumpers make an excellent tow end for dogs facing a challenging water tow.

The smaller heave hose Sqwuggies have squeakers inside to arouse interest and excitement for the bumper. Great for teaching Intro to Retrieve Work. Throw line included.

For product info and  store locations go to: http://www.katiesbumpers.com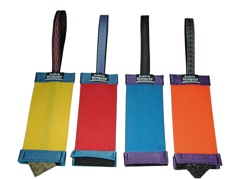 Stuff N Fetch Bumpers -

Fill with scent or FOOD. Great for motivating novice dogs to grab, carry and retrieve.
Lucky Dog

Traditional Training Dummies - Lightweight canvas and plastic knobby training dummies for water fun and sports.  The plastic dummy is designed with an air valve to adjust buoyancy and weight. The canvas dummy has a cell foam interior and a poly rope sewn in for throwing.

Large   (12" X 3")   Canvas; orange or white         $12.00 (shipping $6.00)

Small   (9" X 2")     Canvas, orange;                      $9.00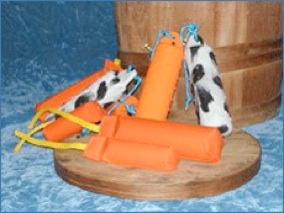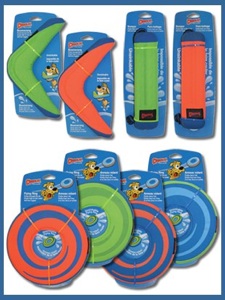 Chuckit 

Amphibious Collection

The Boomerang, Flying Ring, and Bumper are small, light weight, come in bright colors for high visibility.  CWS especially likes the neon orange bumper toy. Its small size and light weight makes it especially  great  for small dogs .  Throwing against the wind might be difficult with these toys because they are so light weight, but the dogs had a lot of fun chasing and carrying these delightful toys made by Canine Hardware.

WUBBA

Covered in brightly colored neoprene these charming toys boast an unusual shape, with two ball shapes that sit high out of the water, and have flapping tails that create enticing movement when thrown.  Surprisingly easy to throw as far as most canvas dummies and CWS dogs are crazy about them.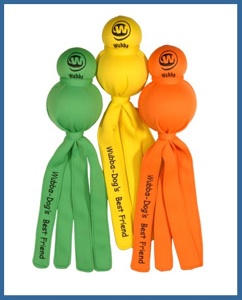 Large Water Loopie                                                                                                                    Mini Water Loopies with rope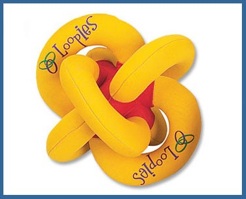 LOOPIES...Even the name sounds like fun and these neoprene, color rich water toys are just that!  The large Loopie sits about 9" tall the smaller version is about half that for small dogs, but the light weight of the larger version makes it fun for the "big" little dog.   Get more tossing distance by adding a rope to the large version.  Good float visibility -distinct shape for visual retrieve work.  For store locations and more info: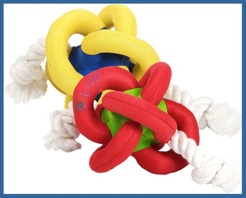 HOW CANINE COLOR VISION EFFECTS RETRIEVE WORK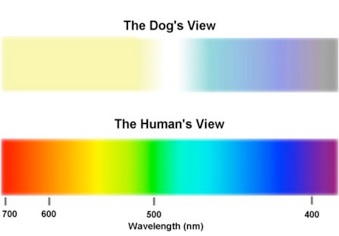 This chart represents the color range scientists believe dogs can see. While dogs may not see reds and greens the way we do, their perception of contrasting colors between the environment and the retrieve article does make visual targeting by color possible.  Canine visual acuity (sharpness) and brightness discrimination (between shades of gray) is believed to be far less than humans. However, dogs have better peripheral and night vision that us.  While size & shape contrast may play a role in some water retrieves, scent and movement seem to play the greatest role in article detection for dogs.  Color can help handler's better locate and direct dogs to articles and there may be another color factor trainers may want to consider for retrievers.  CWS trainers have noticed that some dogs tend to be significantly aroused by neon colors (vibrancy discrimination).  

When planning your training session choose colors for retrieve articles that will create a color contrast or the opposite, a blending with the background environment, to best achieve your training objective. A yellow ball dropped into tall grass tends to blend with the environment, which is great for directed, blind and scent retrieve training.  However, this same yellow ball will pop in color contrast on a lake or river, which may aid in visual targeting.  But, don't forget the other factors that effect you dog's ability to locate the article: size, shape, pattern, movement, and scent.