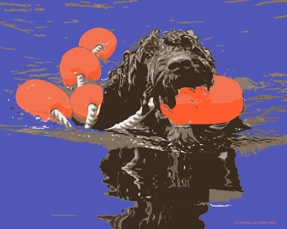 THE WEB-MASTER HARNESS by Ruffwear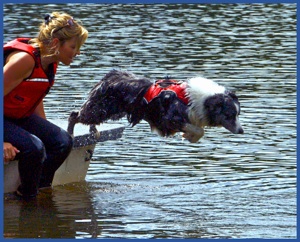 Approved by the PWDCA for watersports tests!

This NEW Web-Master Harness by Ruffwear was design as a sturdy lift harness for search and rescue dogs, but it is proving to be a very versatile harness.  While the harness is being used for tracking, skijoring, rehab, and service work, Canine Water Sports has found it to be an excellent harness for canine  submersion work and as an alternate safety device to the life jacket for conditioned dogs.  The bright red vest portion of the harness provides high visibility in and out of the water. The fleece-lined, foam-padded chest and belly straps provide pain free lifting from the water during an emergency or as needed.  Its high profile handle make assists onto boats much easier, correctly balanced and safer for the dog. The Web-Master's five point adjustment system allows for a correct fit to ensure the dog remains inside the harness during any guidance or lifting. The harness also has 3M Scotchlite reflective trim along the harness to add visibility and safety in low light situations.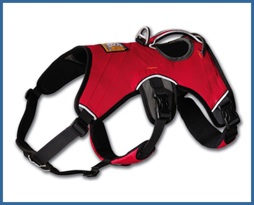 SIZE    GIRTH

XXS      12" - 19"

XS         17" -  24"

S            21" - 27"

M           27" -  36"

L            32" -  48"

Ruffwear.com
RETRIEVE ARTICLES

PWDCA Float Line

Made by Canine Water Sports for the Portuguese Water   Dog Water Trial, this  eleven foot line is also acceptable as a CWS retrieve article or tow line.  The line has five brightly colored 6 X3 1/2" (*PVC) line floats  knotted with 1/2 " floating marine line.  Lines can be made in Purple or Yellow. The  color Purple is a great contrast color for visual based land retrieves.

$30.00   (Shipping $13.00)

*This article is not a chew toy, a common additive to PVC/vinyl is a suspected carcinogen. Visit www.pvcinformation.org   Teach dogs to grab only the line.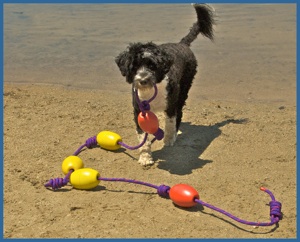 Toss N Fetch Line by CWS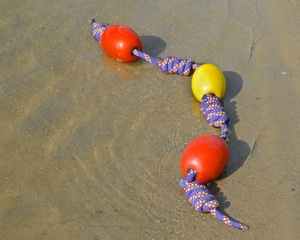 The Toss N Fetch Line is an approved Retrieve Article for Canine Water Sports. This line is four to six feet in length, has three brightly colored  6" X 3 1/2" (*PVC) line floats, which are knotted together with 1/2" floating marine line.  The Toss n Fetch Line is approximately half the length of the PWDCA regulation retrieve line making it easier to pack, carry and toss.  Great for introducing tow work and line deliveries for rescue work. Great starter line for puppies and novice dogs.

$19.99  (Shipping $13.00)

*This article is not a chew toy, a common additive to PVC/vinyl is a suspected carcinogen. Visit www.pvcinformation.org   Teach dogs to grab only the line.
Training Dummies & Bumpers

Tips


•Make sure dummies/bumpers are dry before being put away to avoid mold and bacteria growth. 


•Mesh bags are great for air drying and storage.


•Canvas dummies sit high in the water and are light weight for carrying/retrieving, but are not very durable, especially with mouthiness.


•Firehose dummies come in bright colors, are more durable than canvas, and have less bulk for easier pick up by some breeds, but tend to lay flat on the water surface.


•Plastic Knobby Dummies tend to discourage mouthiness are a bit heaver than other dummies, which can increase throw distance and give greater accuracy to throw placement. Once punctured these dummies will take on water and may sink.


•Variety in retrieve articles strengthens the retrieve behavior - a trainer's bag should contain a variety of retrieve articles distinct by sizes, weights, floatation, color, patterns, texture and shapes.


•Canine Water Sports retrieve tests require the dog to be trained on a minimum of three different retrieve articles.
Lucky Dog

Traditional Training Dummies - Lightweight canvas and plastic knobby training dummies for water fun and sports.  The plastic dummy is designed with an air valve to adjust buoyancy and weight. The canvas dummy has a cell foam interior and a poly rope sewn in for throwing.

Large   (12" X 3")   Canvas; orange or white         $12.00  (shipping $6.00)

Small   (9" X 2")     Canvas, orange;                      $9.00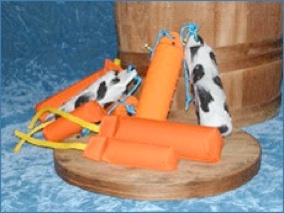 Submersion Articles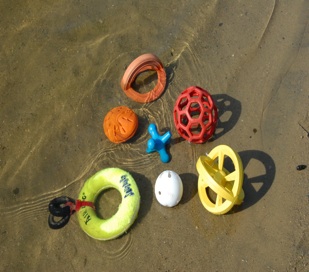 You can get really creative with underwater articles. CWS allows you to use any object that sinks as a retrieve article. Dive behaviors are judged on depth of submersion and ability to retrieve a variety of objects. 

Most of the hard rubber toys in any pet store sink and others can be weighted with the ring weights found in stores selling golf club equipment. Whiffle balls are fun underwater toys too, just add a few drill holes, push in some pebbles or marbles and the rattling ball sinks fast. The CWS Treat Pouch (listed below)  also sinks and when filled with treats it creates a hard to beat incentive for getting the dive behavior started.

Consider, size, color and height when training in natural water environments which may have dark, mucky bottoms and loose debris that could cloud visibility for dives.   To avoid teaching your dog that she can paw up or paw the article to shore, begin submersion training in a pool where you can hold the article suspended in K9 elbow deep water or place it on a submerged platform at a distance from shore that eliminates a shallow path to the shoreline.
PWDCA Whiffle Ball

Whiffle Ball with marbles and extra holes to ensure a fast drop to the bottom.  The choice for a submersion test if you have a ball obsessive dog or need high visibility in murky waters.

Baseball size  $3.99
CWS Gear Bag for PWDCA Water Trials

FINALY, an easy-to-carry design for dogs who insist on carrying the whole bag!

Brilliant Design: Creatively shaped and lightweight our bag is designed to snugly hold the Working Level's gear: a buoy ball, float line and dummy. 


The Right Size for the Job: its compact size leaves nothing behind for the dog to fuss with or trip over like other oversized gear bags - making it a neat little package for any size canine helper.


Immediate Access: just a quick zip and your water articles are ready for your selection.


Motivational:  Retrievers love this bag's short tow line with grab knots - it gives them the control they crave for hoisting a load. 


NO Mesh means no Mess: Mesh bags can gather sand and vegetation when dragged. Our bag has a solid nylon shell to reduce drag and prevent debris from messing up your gear. 

Color: Sunshine Yellow (rope color may vary)  for high visibility.

$29.99, (shipping $6.00)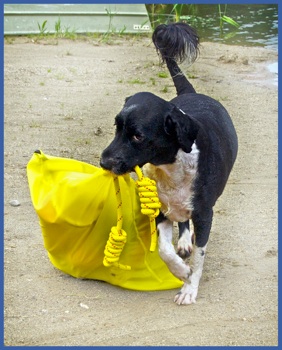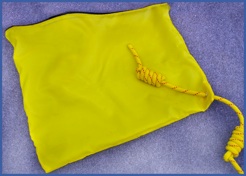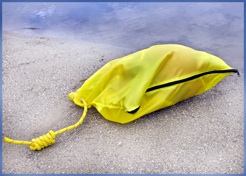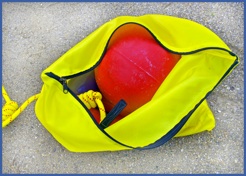 HOW CANINE COLOR VISION EFFECTS RETRIEVE WORK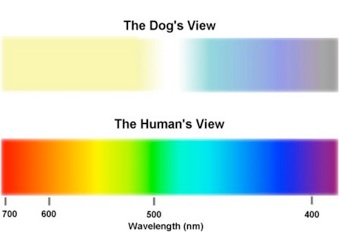 This chart represents the color range scientists believe dogs can see. While dogs may not see reds and greens the way we do, their perception of contrasting colors between the environment and the retrieve article does make visual targeting by color possible.  Canine visual acuity (sharpness) and brightness discrimination (between shades of gray) is believed to be far less than humans. However, dogs have better peripheral and night vision that us.  While size & shape contrast may play a role in some water retrieves, scent and movement seem to play the greatest role in article detection for dogs.  Color can help handler's better locate and direct dogs to articles and there may be another color factor trainers may want to consider for retrievers.  CWS trainers have noticed that some dogs tend to be significantly aroused by neon colors (vibrancy discrimination).  

When planning your training session choose colors for retrieve articles that will create a color contrast or the opposite, a blending with the background environment, to best achieve your training objective. A yellow ball dropped into tall grass tends to blend with the environment, which is great for directed, blind and scent retrieve training.  However, this same yellow ball will pop in color contrast on a lake or river, which may aid in visual targeting.  But, don't forget the other factors that effect you dog's ability to locate the article: size, shape, pattern, movement, and scent.