TRAINING EQUIPMENT

Watersports Treat Pouch

Designed exclusively for Canine Water Sports!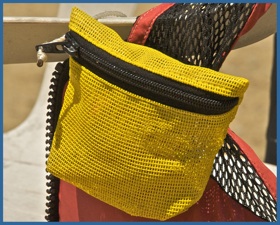 Perfect for trainers who train in the water. Made of durable marine mesh so water can drain out quickly. Mesh design reduces mold and bacteria build up that can occur with other pouch materials. Velcro strap allows for an easy attachment to your life vest or to your wrist. Wide zipper mouth makes treat access fast and simple. Get a retrieve behavior started with this lightweight article.  Fill the pouch with treats and use to stimulate an underwater retrieve or a take & carry.


Bright yellow for better visibility underwater. 

$15.00 ea. 

Shipping $3.00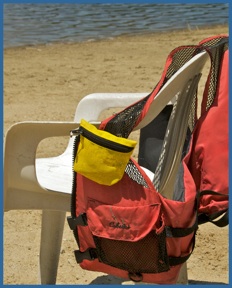 Equipment Bags

Professional Mesh Equipment Bag - Large duffel style design for wet equipment and swim gear. This durable high quality mesh bag is the perfect storage or transport bag for the water dog trainer who travels with training and competition water gear. Has a zipper close end pocket, handles, and a full length zipper for easy access to gear.

Bag size: 30" x 15" x 15", comes in black mesh with solid end colors of blue, or red

$30.00  
STAYING PROTECTED & WARM WHILE TRAINING YOUR DOG

While not required for wet dog training, wet suits and Hydroskins can help defend against abrasions from canine nails, rough sand & rock and damaging sun.  In cool weather, wet suits allow you and your dog to perform water work beyond the normal swim season in northern regions or mountain lakes.  Here are a few links to Custom Wet Suits for human & canine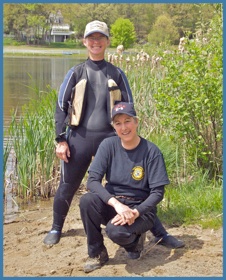 BONE DRY, A Trover Coat for wet dogs.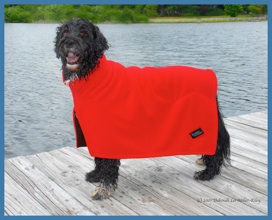 The Bone Dry drying coat by Trover Coats is a stylish, well made, washable, Looper fleece coat for your wet dog.   The dog's head goes through the soft pullover styled front and the dog's rear legs slip inside elastic straps on the under side, which stabilize the coat.  No need for straps around the neck or belly, the coat stays put even when the dog is running or curling up in a bed.  The Bone Dry coat will help keep your dog warm on cool days, speed drying, and help keep your car and home cleaner while moving a wet dog.

Purchase & sizing information:  www.trovercoats.com
Martingale Leads by Mendota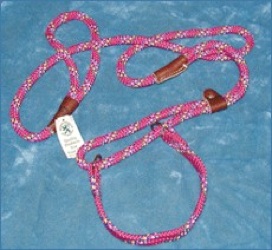 Martingale Lead by Mendota - a beautifully made lead, perfect for the collar-less canine athlete. Easy to use - this all in one collar 'n lead has a flat throat strap that slips over the dogs head and closes to the dog's neck size if the dog pulls against the lead. The neck collar opens again when the dog relaxes. Great for quick guidance to start lines, then just slip off the martingale and run collar free. These leads are water durable and can be used under wet conditions. Comes in various colors.

Info and Store locator: